The tourism industry here is a small world. Everyone knows each other and we all want to support each others. As a tour company owner and tour guide, I want to know what's new in my city and it's region so that I can give the best travel advice to my guests.
People working in the tourism industry know that the best way to give the best advise, is to experience ourselves the various activities offered to our visitors. How can you give genuine advise on something you never tried?
I'm a native French speaker. English is not my first language. So, I might have made a few mistakes in this blog post. If I did, please let me know, its the best way I can improve!
Bike tour on the Orleans Island: my review
Motel Ile d'Orléans
François, owner of Motel Île d'Orléans really understands this. I've known François for a couple of years now and I know how passionate he is about his product and services. He simply loves to make people happy. He wants people to have the best experience on the land he loves, l'ile (island) d'Orléans. When you meet François, you know you are in good hands!
François owns a motel minutes from the bridge of the island. I know the word ¨motel¨ has a bad connotation, but trust me, this place is lovely! Each room as it's own front balcony with a small table and chairs, along with beautiful yellow flowers. I can definitely see a couple enjoying the sunset there with a glass of local wine after a long day of exploring the island.
One of the best ways to explore ile d'Orléans is by bike. Directly at his motel, François rents not only bikes, but also tandem bikes, scooters and electric bikes. He offers guided tours and self-guided bike tours. The electric bike has been gaining popularity for many years both on the road and in the mountains. What an amazing way to travel, to move quickly, and respect for the environment. Francois invited me and my boyfriend Sébastien to experience a bike tour of Orleans island with his electric bikes, which I did in June. How can you say no to such an invitation?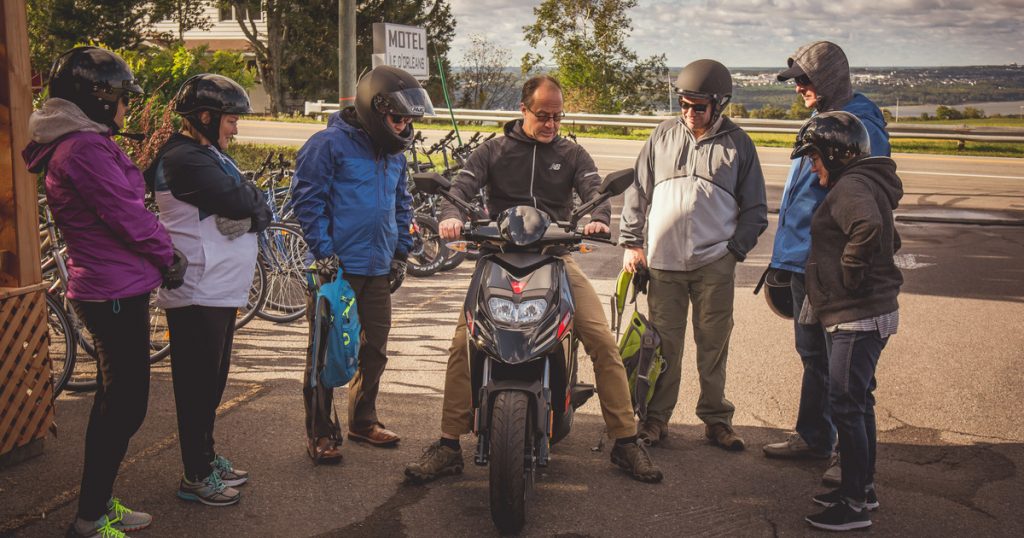 Île (Island) d'Orléans is located on the Saint-Lawrence River about 5 km East of Old Quebec. The island was one of the first parts of the province to be colonized by the French. With it's numerous farms, it has been described as a "microcosm of traditional Quebec and as the birthplace of francophones in North America". Popular getaway destination, the island is famous for it's strawberries, wines, cider, event and breathtaking landscapes.
How to get to the Orleans Island from Quebec City
Shuttle
In partnership with Quebec Bus tour, François offers a shuttle service from Old Quebec to his Motel. Very convenient!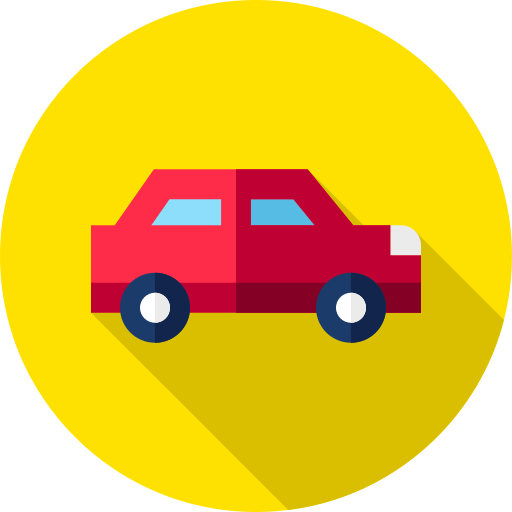 Car
From Old Quebec, head East toward Ste-Anne de Beaupré and take exit ¨Ile d'Orléans.¨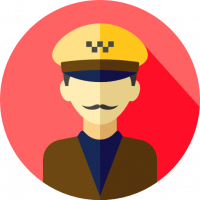 Taxi/ Uber
A one way ride with Uber or taxi should costs more or less $30 CAD
Our bike tour on the Orleans Island
When we arrived at his motel, François showed us a bit of history about the island and designed a self-guided tour for us. Sébastien and I know the island very well, we go every season and I even bring tourists over there, but I wanted to see the island ¨as a tourist¨. With our map of the island and helmets, we were ready for our bike tour Orleans Island!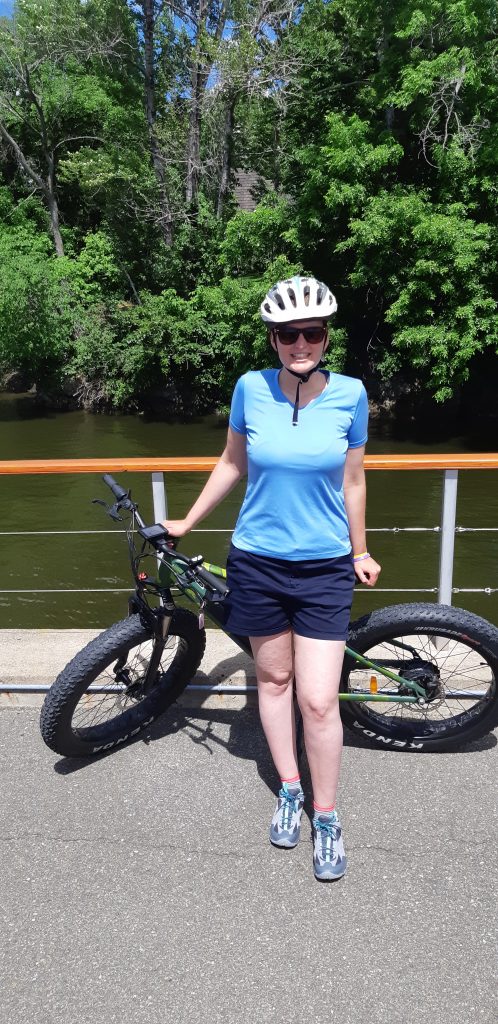 François showed us how the electric bikes works and he helped us to familiarize with them. It looked tricky at first, but after a few minutes on the road, we felt safe and we were in perfect control of our bikes. I was impressed by how powerful theses little machines were! I was pedaling, but I clearly did not need too. The bike was doing to whole job for me! That's when I understood that anybody can do a bike tour of Orleans Island, regardless their level of fitness.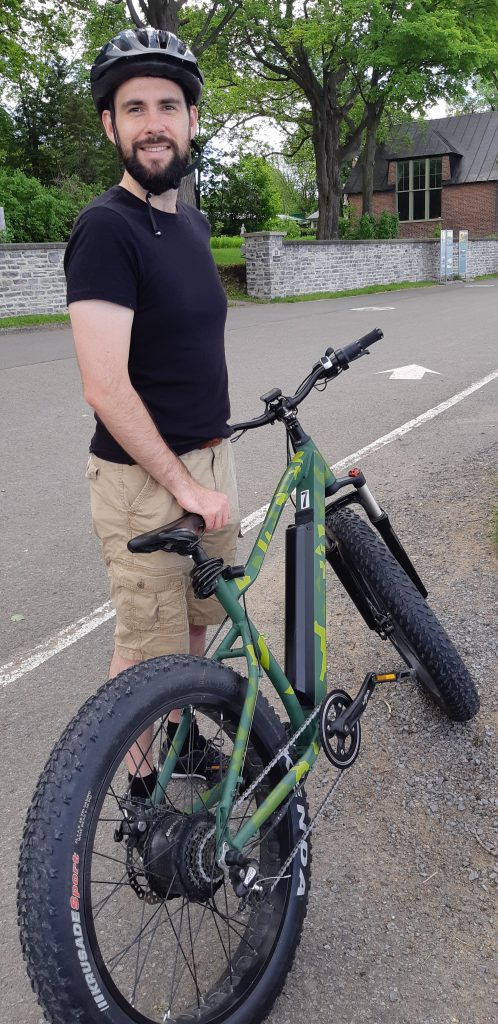 Those famous strawberries
Our first stop of our bike tour on the Orleans Island was just a few minutes from the motel, we stopped at a strawberry farm to have some strawberries. The ones at the island are famous for a reason, they are so sweet and juicy! Having just strawberries is a popular snack among Quebecois.
Strawberries from Île d'Orléans are available from mid-June until the first frost. Many farmers on the Île D'Orléans sell their fresh produce at their booth. Some also offer the possibility of picking strawberries yourself.
Auberge La Goéliche
Then, our second stop was at l'Auberge La Goéliche. Located at the western tip of the island, there is a breathtaking view over the Ste-Lawrence River and Quebec City worth stopping for.
Looking for a tour guide in Quebec City?
I would love to show you around on a walking tour!
Café La Maison Smith
Our third stop of our bike tour of Orleans Island was at Café La Maison Smith where we had a delicious coffee and croissant (along with strawberry jam, of course!). La Maison Smith as three coffee shops in Old Quebec and let me tell you, the owner, Jerôme, is on fire! Just in a few years, he managed to open new locations and always keep the calm and relaxed atmosphere of the first located located at Place Royale in Old Quebec. He recently opened two new coffee shops: one in Limoilou and the other in Montcalm district. I simply hope that this business will be around for a long time.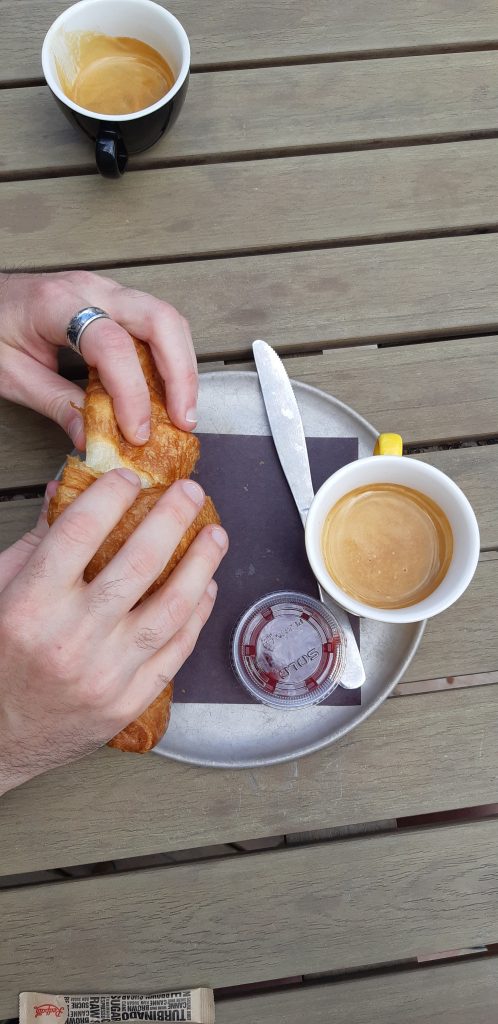 Cassis Mona et filles
Our last stop of our Orleans island bike tour is one of our long time favorite: Cassis Mona et filles. This place is known for its award winning crème de Cassis as well as it's blackcurrant wines. The decor over there is wonderful and the service, always friendly. This place is so Pinterest! When you visit Cassis Mona et filles, you know you are going to have a memorable time!
Over there, you can not only taste their different products in their tasting room, but also have a full lunch on their charming sunny terrace. They even sell black currant ice cream for dessert! Over there, we had a glass of their blackcurrant sangria along with a platter of local charcuterie, cheeses, bread and veggies. It was perfect!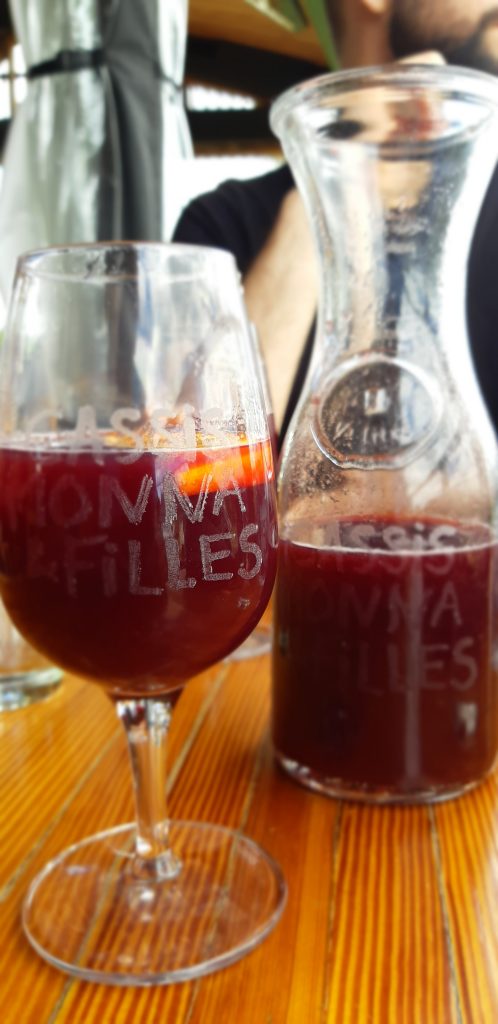 We did not do all the stops François recommended, but we also could have stopped for some chocolate and ice cream at La Chocolaterie de l'Ile d'Orléans and at the Vignoble (vineyard) Ste-Petronille.
Heading back home
We then made our way back to François' motel. Overall, our bike tour of Orleans Island lasted about 3 hours. We had so much fun! I would never hesitate to recommend this activity to my guests on my walking tours. I think it's a great, fun and green way to explore this charming island! Thank you so much François for the wonderful day!
Ready to Ride?
You can book
online your bike tour of Ile d'Orléans and get 15% off on all rentals by using the discount code "NOMAD"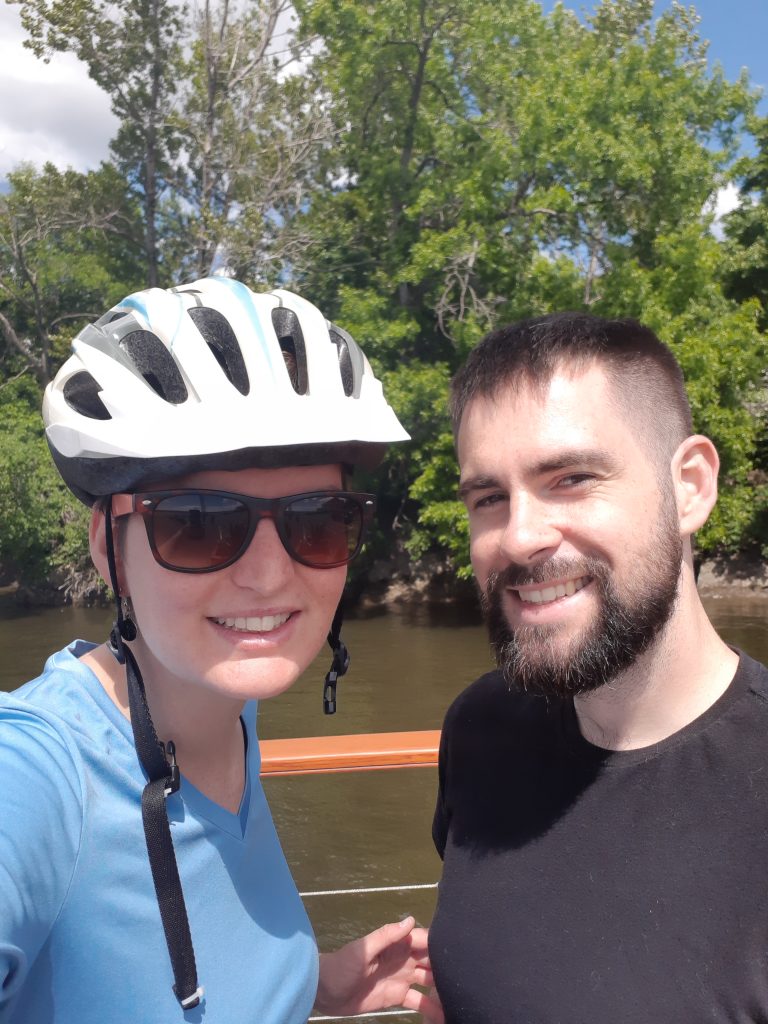 Marie-Pierre and Sébastien
Tour Guide, Blogger and Business Owners
Will I be showing you Old Quebec during your next stay here? I hope so! You can contact me for a private walking tour of Quebec City using the contact form below.
You Might Also Like…