Samuel Dubois, a young and energetic Quebec City tour guide, is the owner of A Free Tour of Quebec City and has been leading Quebec City free tours through the Capital's historic, cobbled streets for over five years. His love for the city and passion for sharing it with the world encouraged Sam to start running his own free tours and let me tell you… It is a success! Before him, there was only one other tour company here in who offered free Quebec City tour so clearly, the demand was high. Good thing that Sam, with is iconic massive beard, is here to fill that gap. Today, Sam shares his knowledge and local insight with travelers from across the globe… and he loves it!
The most captivating way to learn more about the city is with a local who knows it best. I decided to interview not only my colleague, but also my good friend Samuel to know more about his company, his Quebec City free tours and his vision of the tourism industry here in Quebec's Capital.
Read on and learn more about Sam and his free Quebec City tours.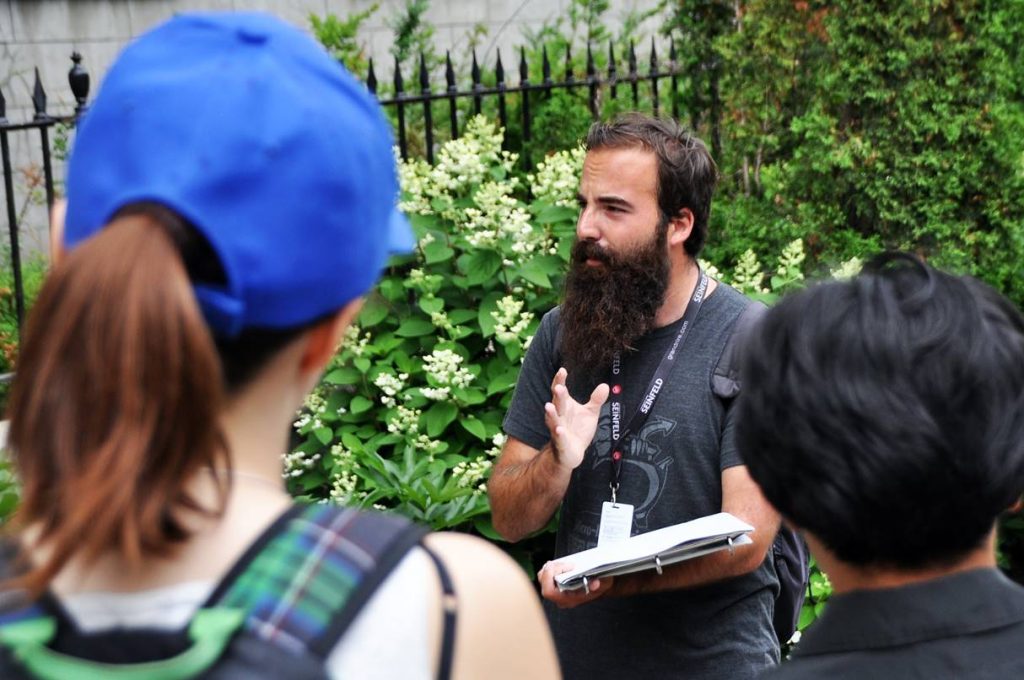 A Free tour of Quebec City : my interview with Sam Dubois
What sparked your passion for operating these free walking tours of Quebec City?
When I was a student at the travel agent school, in 2011, I had the chance to join various tours of the city. That's how I've felt in love with the history of Quebec. I used to love history classes in high school but to see it and understanding it IRL is another level. There are so many things that most local have no single clue regarding history! I have also worked at the Quebec City's airport (YQB) as check-in agent for Swissport. I was also the porter lead in YQB. I've meet so many people that enjoyed Quebec City. At that moment, I knew I needed to get my tour guide license and becoming a certified tour guide.
After a one-year program at the Merici College, I got my tour guide license. I saw in Montreal and many places in the world (mostly in Europe) that free tours existed. I liked the fact that these tours are accessible, even for people who are travelling on a budget. I think it's the best way to start off a trip and learn about a city through the eyes of a local tour guide. Many of my clients would not be able to afford a "typical" walking tour so my free Quebec City tours are a great option for this type of travelers. My groups consists of students, young travelers and experimented travelers alike.
Since when are you leading your Quebec City free tours?

About 5 years. Actually, I think it was at the same time as you (Nomad Tours Quebec) or almost. The beginnings were not easy. Like any other company you need to built up your product and get customers. I had a full time job at the airport and on all my days off, I was pushing my idea of giving tours. At first, being a tour guide was my summer job and during winter, I managed to have another job. Only last year I could say I was able to pay my bills and live pretty well as a full time tour guide. Thanks to COVID-19 , things are totally different now…but at the same time everyone is in the same boat. I'm still lucky to do 3-4 tours a week this year.
What can a traveler expect on your typical Quebec City free tours?

You will see some off-the-beaten-path sights of the city that not all tour guides show. There are so many things to say about the city. It's only normal that not all tour guide has the same path. On my Quebec City free tours, you will hear funny stories and fun fact but also some aspects of the bad side of Quebec's history. My tours are a great overview of the city. My tours are not an academic type of tour but a great balance between fun and interesting. Quebec is filled with secrets that most locals don't know about. I am offering to personally guide you through these well-kept secrets and into the rich history of Quebec in a humorous, fun-fact-filled manner.
What are the top three places people should visit in the city?
1-Museum of Civilisation: probably the best museum in the whole city. Complete information with permanent exhibition about the First Nations, history of Quebec and also always cool temporary exhibitions. The tickets are affordable and you get an amazing experience.

2- "Ilots des Palais". It is not well known from tourist and even locals. It has rich history that dates back from the New France era. There is a small interpretation over there that depicts the great legacy of the Intendant Jean Talon and the first brewery of Canada. You can do geocaching and learn more about the history of this place with a fun trivia game. the "Ilots des Palais" is located at few minutes from the downtown train station.

3-Morrin Center: This place is filled with secrets! The Morrin Center is an old jail where 16 convicts were hanged in front of it. It is also a cultural center that depicts the historic contribution and culture of local English-speaker. Clearly an hidden gems and a personal favorite!
Name one thing in Quebec City that you think is overrated (I know it is not easy but try to be honest!)
I'm not sure if I like this question! Haha! It depends on your travel personal interests . Personally, I'm not a big fan of going to shopping malls as an activity when I travel. There is one huge shopping mall called Laurier Quebec that keeps on saying in their advertising that they are the 2nd best tourist activity/destination after Old Quebec. I'm not convinced of this affirmation…Anyway, in my opinion, Laurier Quebec looks like many other shopping mall in North America so nothing exceptional. It is very personal opinion. I believe that there so many other things travelers can do while they are here in Quebec City than wasting their time at a shopping mall.
What is your favourite thing about living in Québec?
Nature is not far from the city. I also love the architecture and the history of one of the oldest place in North America. I really enjoy the beer industry, the food and the people in general. Also, Quebec City is very safe. The chances of being attack, mugged, etc… are close to zero. The cost of living is reasonable compared to many major cities in the world. Regardless of the good or bad things you might have heard about our free Canadian health care system here, I'm glad we have it. In general, I think the quality of life here is pretty good. I feel lucky to live here.
What piece of advice would you give first-time visitors to Quebec?
Taking a walking tour, for sure! Also, learn a few words in french to impress people here! Come to Quebec City with an open mind and leave any stereotypes behind. In wintertime, wear warm clothes…If you've never experiences real cold temperatures, you'll need more than a light jacket… trust me! Also go off the tourist map and go meet the locals in Limoilou, Saint-Roch and Saint-Sauveur neighborhood.
What questions do you get asked most often on tours?
How much snow we get in winter? Why people still speak french? How much does it cost to rent an apartment here? Is there still a separatist movement here? Do you learn English at school? Why the city is so clean?
I know you are a fan of local beers. For other beer lovers out there, where should travelers go to taste local Quebec beers? What would you recommend our readers taste?

Beer in the province of Quebec has nothing to envy to other place in the world. The quality of the brewery get better year after years and many of them are award winning. If you visit Quebec City in summertime for a few days and you are a beer lover, I suggest you to take the challenge of the Quebec beer map called "Je bois local". With this map, you are invited to discover 10 different microbrewery and you win a free t-shirt "Je bois local". That's a great souvenir! However, I don't suggest you visit the 10 microbreweries on the same day because you won't remember anything!

On a warm summer day, I don't miss "La cour arrière du Festibière" located in the Port of Quebec.It is a hidden spot where you can enjoy local beer with your feet in the water (the chair and table are literally in water!) I must say that the beer are more expensive than usual there but the experience is worth it.
You offer ''free tours'' but we know you make a living out of your tips and gratuities you get from your guests. I know that some guests prefer to give gifts instead of money. What is the most bizarre thing a guest ever gave you?

Some of my clients are travelling on a budget so I got all kinds of things over the years. When I started my free Quebec City tours, a lot of people gave me postcards. I now have a whole book filled with postcards from all around the world. Since the beginning, I've got all kind of gifts. Some of them are quite specials!
I also once got a signed baseball from the Baron of Birmingham of 1986.
I also got an postcard with kisses (with red lipstick and everything!) from a group of girls from Israel. The card described all the 4 girls with their own personality and it was dedicated to me with the title "from Israel with love." Hopefully, I won't get too many of these because my girlfriend would be jealous!
What do you hope travelers take away from your walking tours, or their trip to Quebec City?

I hope travelers will keep good souvenirs from their time here. I want them to remember their trip in Quebec and not just my Quebec City free tour. I want people to have something to remember and to talk about in the future. I want them to remember that most of Quebecois are quite open minded, probably more than they think. My hometown is definitely an amazing place to visit. At the end of their trip, I would like that people remember Quebec's moto: Je me souviens. What does that mean? You'll have to join my Quebec City free tours to find out!
Marie-Pierre Lessard
Bonjour, I'm Marie! I'm a Quebec City tour guide, owner of Nomad Tours Quebec, content manager, blogger and Quebec gin addict. When I'm not guiding travelers around Old Quebec, I am writing content for my blog, walking around with my camera, and probably playing with my two nephews. Let me show you Quebec City!