Last year, I wrote a blog post about ice fishing in Quebec City and let me tell you, it turned out to be one of my most popular posts EVER! I was surprised to see how much interest there was in an article about ice fishing.
It became clear to me that travelers are always searching for fun and unique winter activities to do during their stay in Quebec City. That's why I've decided to write another blog post, this time highlighting even more amazing winter activities. Regardless of when you choose to visit my city, there's always plenty to explore. However, Quebec City is one of those places that truly comes to life during the cold season.
Visiting Quebec City in the winter is the perfect time to embrace the snow. As a quebecoise, I take snow for granted and to be honest, sometimes, I get tired of it! However, many of my guests on my walking tours of Quebec City are not familiar with snow at all…and that's exactly what they are looking for here. Although Quebec City winters are cold, don't worry – you'll be too enchanted to even notice! Here are, in my opinion, the best things to do in Quebec City in the winter.
Best winter activities to do in Quebec City
Ice fishing
Visiting Quebec City during January, February or March? Good! The ice on our lakes is thick enough to do ice fishing. During the winter months, fishes stay active to get through the cold season. As a result, families and experienced fisherman alike can catch trout, yellow perch, and walleye. It's a very festive activity. You will certainly meet new friends (and have the opportunity to practice your french!) Because of that, ice fishing is definitely a tradition here in Quebec and in Canada, especially if you have kids.
There are many places around Quebec City where it's possible to experience ice fishing such as…
I personally really like Expédion Mi-Loup because they offer a shuttle service departing from Old Quebec. Very convenient! They also provide you with proper winter clothing needed. Located on the Orleans Island, Expédition Mi-Loup also offer dog-sledding, snowshoeing and snowmobile. That's 4 activities at the same place!
Dog sledding
Speaking of dog sledding, this is another amazing winter activity Quebec City and it's region has to offer. It's also one of the things I like to most about living here is the proximity we have with nature. You don't have to drive for hours to be in breathtaking nature and experience unique winter activities such as dog sledding.
Tour guide tip: Dog sledding can be a lot of fun but, be prepared to move! This is a sport! Depending on the terrain and the energy of the dogs, you might need to help them, especially if there are hills on the trail.
Just like ice fishing, there are plenty of places where you can experience dog sledding around Quebec City. I already mentioned Expédition Mi-Loup but here is a list to help you choose the perfect place for you:
Dog sledding is a traditional mode of transport here in the Great White North. This unique activity puts you in touch with nature like no other. I feel it's very impressive to see these dogs running like if they are never out of energy.
Convinced? I suggest you book early if you want to do dog sledding, especially if you are visiting my city during the Winter Carnival. This winter activity requires a little bit of planning, but its well worth it!
Did you know? You can reach 70 km / hour (40 mph) on this toboggan ride! Hold tight!
Toboggan ride on Dufferin Terrace
Among all winter activities, this is truly a classic! This impressive structure which holds the rides has become familiar to residents of Quebec. It appeared on the Dufferin Terrace in 1884 and it's without a doubt a must-do winter activity for tourist and locals alike. No wonder this winter activity attracts thousands of visitors each year. If weather permits, the slides are open from mid-December to mid-March. You can buy tickets directly next to the slides in the coffee shop called "1884".
The Ice Hotel
Was I really going to write a blog post about the best winter activities in Quebec City without mentioning the Ice Hotel? Of course not! The famous Ice Hotel is located about 30 minutes North of Quebec City on the site of Village Vacances Valcartier. During summer time, this place is well known for it's water park and in winter, the place transforms itself into a winter wonderland. You can do snow tubing all day over there and even ice skating. A few years ago, Village Vacances Valcartier build an indoor water park called Bora Parc. Therefore, even if its freezing cold outside, you can still wear your bathing suit and enjoy the slides!
Did you know? The Ice Hotel is made of 30,000 tons of snow and 500 tons of ice and the walls are up to four feet thick !
The Hotel de Glace (Ice Hotel) is the only one of its kind in North America and it really shows how crazy quebecois are about winter! It changes theme each winter so even for locals, visiting the Ice Hotel is breathtaking. You'll find fascinating art and ice sculptures as soon as you enter the Grand Hall of the Hotel. One of the things I like the most about visiting the Ice Hotel is explore, one by one each and every rooms and suites. That are all different! Also, don't miss the chapel, where people from all over the world get married in a very unique way. At the end of your visit, treat yourself with a delicious cocktail served in a glass made of ice!
Ice skating in Quebec City
Prefer to do ice skating? You'll find many ice skating rinks around Old Quebec and for most of them, you can rent skates for a small fee. Here is a list of my favorite skating rink around Quebec City. Rentals are available in these 3 places.
German Christmas Market
With its cobblestone streets and unique European architecture, Quebec City has everything it needs to create the magical atmosphere of a traditional German Christmas market. With its typical wooden kiosks and scintillating lights, the German Community of Quebec City really made the perfect event that has become a must-see for locals and visitors alike.
I like the German Market so much that I even created a walking tour that includes a visit of the Market! Also, I added to this walking tour some snacks and mulled wine!
Marie's German Christmas Market Tour
During this 3-hour private walking tour, we will cover dozens of Quebec City top tourist attractions and, of course, some surprises on the way! Half-way during our tour, you will have free time to explore Quebec City German Christmas Market. Mulled wine tasting and traditional German treats included!
Want more?
Looking for even more winter activities? My friend Pamela wrote a very complete guide called 30+ things to do in Quebec City in winter. Check it out!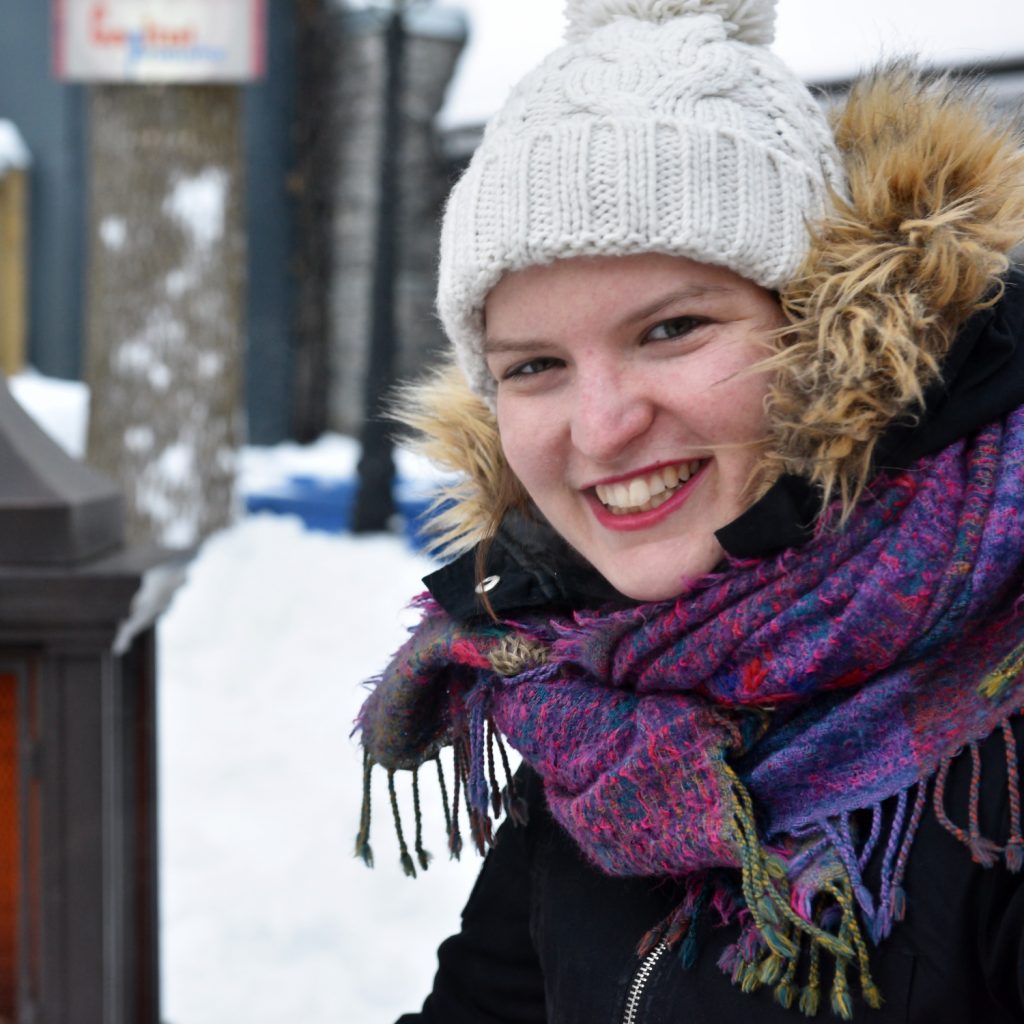 Marie-Pierre Lessard
Quebec City Tour Guide, Business Owner and Blogger
Will I be showing you Quebec City on a walking tour during your next stay winter getaway? I hope so! You can contact me and book a tour using the contact form below.
See you in Quebec City!
You Might Also Like…