Travel and food goes together. Who doesn't want to try local food when traveling abroad? I believe that the best way to try local food is by taking a food tour.
A food tour, lend by a professional tour guide, regroups several restaurants or eateries in the same city or neighborhood in order to create the perfect foodie experience. Above all, it is a delicious introduction to the history, culture and food of Québec City and a good way to discover which neighborhoods and restaurants to dine in during your time in the city. Each places on a tour will offer some bites or even a full meal. In other words, a good food tour will genuinely mix history, culture and food explanations in order to offer a complete, unique experience. The Evening Gourmet Food Tour I'm about to review here is all about that.
Which is the best food tour in Quebec City?
There are a few tour company here in Quebec City who run food tours. They are all different and offer various kinds of experience. However, I must say that our food tours here are amazing and offer excellent quality. I'm sure you'll find the perfect food tour according to your needs and budget. Tour Voir Quebec offers an affordable food tour with experienced and knowledgeable tour guides. Local Quebec City Food Tours focuses on local experiences and tours are run by dynamic licensed tour guides. Want to go off the beaten path? They also offer a food tour of St-Roch district, which is particularly known for it's culinary scene. In conclusion, Cicerone offers a fun and instructive food tour with a passionate tour guide dressed in era costume.
Evening Gourmet Tour- 5 Course Progressive Dinner in Quebec City
Another tour company who also offer food tours is HQ Tourism Services Their tour is so successful that even my guests on my own tours talk about it! The tour company owner, Emilie Pelletier, kindly invited me to try her food tour. My tour was on cold and stormy evening of February but it did not matter: I was about to take the famous Evening Gourmet Tour by HQ Tourism Services and I could not be more excited!
A full meal (bring your eating pants!)
As you might have guested, this food tour is very different from all other food tours offered here in Quebec City. This is not only having a small bite at different restaurants but having a FULL MEAL! Yes, you'll probably be full at the end of every food tours mentioned above but nothing compares to the Evening Gourmet Food Tour. The first two stops are the appetizers, the next two stops are delicious full meals and the last stop is dessert. You get a good glass of wine at every stop, except for dessert. Sounds yummy, right? I'm about to go more into details…
5-Course Progressive Dinner
I met my tour guide and two other travelers at 4:00pm in front of historic Maison Chevalier. Our tour guide was Danielle. She is a fun, relaxed and knowledgeable tour guide. You can really see that she loves what she does and loves to share her passion with her guests. We were only three guests on the tour because we were during the off-season, in February, right after the Winter Carnival. Usually, there are about ten guests on the tour, which is the maximum number of participant allowed. I had the chance to meet a lovely couple from Nashville, Crag and Sandy, who were very curious about the culture here and how politic works in Canada. It's fun to meet travelers who are interested in learning more about the region they visit.
Stop #1: Sapristi
Our first stop, one of two places for appetizers, was at Saprisiti. It's a lovely and cozy Italian restaurant. Our table was ready for our small group and while waiting for our first plate, Danielle gave us some information about the restaurant but also the history of Quebec City. Quickly, we were served a delicious arancini made of risoto served with onion sauce. It was paired with a pinot noir from Niagara Falls. Delicious! What a great way to start our food tour!
Stop #2: Bar l'Artefact at Auberge St-Antoine
I was so glad that this place was included on the food tour! I'm already a big fan of l'Auberge St-Antoine, a unique boutique hotel, and I knew I was not going to be disappointed. At Bar l'Artefact, we were served a delicious (and enormous) plate of local charcuteries made in the Charlevoix region along with cheeses, olives and pickles. Our wine pairing was a refreshing and dry white wine called l'Orpailleur. Mmmmm! If was fantastic! I need to go back there!
Stop #3: Le Continental
After our second stop at Bar l'Artefact, we walked passed Place Royale and Petit Champlain district where Danielle gave us some very interesting historical information. I really like the mix food/ wine / history / culture of this tour. We then took the famous Funicular, to get to the upper town on Terrace Dufferin. Usually, this terrace offers a breathtaking view over the St-Lawrence River and it's surroundings but with the upcoming storm, we did not see much! We quickly needed to get someplace warm! Le Continental was ready and waiting for us in their luxurious restaurant. It was my first visit at this famous French restaurant and I was so glad it was included on the tour. Turns out, I was not disappointed. In the most pure French traditional, they made us shrimp flambé directly at our table. It was very impressive! The shrimps where then served with veggies and rice paired with a glass of pinot grigio. It was classy, but not snobby. Loved it, and so did the couple from Nashville! Even Antony Bourdain visited Le Continental, check this out!:
Stop #4: Chez Jules
After our amazing meal at Le Continental, I was starting the feel full. It did not matter, I was ready for more! We walked past the famous Château Frontenac where Danielle gave us information about this iconic hotel. We then made a short walk to get to our second "main dish" at a restaurant called Chez Jules. It is a nice, cozy and fun french bistro. Service is always friendly but professional ever there. Our funny and charismatic waiter served us a generous plate of braised beef cheek à la bourguignonne along with green beans and creamy mashed potatoes. OMG… it was so good, it should be illegal.
Stop #5: La Maison Smith
After all these amazing dishes, we were now ready for dessert. Danielle guided us to a coffee shop I know well, La Maison Smith. I often go between my tours but I never thought about going there just for dessert. Over there, we choose which macaron we wanted to taste and our friendly barista made us coffee, tea and herbal tea. We also had a big piece of bread pudding we could share. Delightfully decadent! That was our last stop and Danielle kindly showed the way to the couple's hotel. I was amazed by the experienced I just lived. We visited 5 unique restaurants and the food was excellent at every stop. I clearly see that this Gourmet Food Tour is a top-notch, 5-star experience and I would never hesitate to recommend it to my future guests!
A unique an local experience
This evening tour felt like having dinner with friends. On this walking tour, I'm sure you'll get along well with not only your tour guide, but also your new foodie friends. Our tour guide, Danielle, made sure to set a friendly and private mood to the tour. It's so fun to walk from restaurant to restaurant without having to wait in line for a table or having to make reservations ourselves. The tour guides takes care of everything for us! Another great thing about this food tour is that you'll get the chance to dine around Old Quebec's best restaurants, savour the must-haves while exploring the city's beauty under the street lights. Even as a local, this tour surprised me and I feel even more in love with Quebec City!
This food tour in a nutshell
What if I have a food an allergy?
If you have food allergies, you are vegetarian or vegan, let HQ Tourism Services know. They, along with their partnered restaurants, will do their best to accommodate you. You are not a big fan of sea food? Let them know too. It's amazing what they can do to adapt a tour, as long as they know in advance.
The best gourmet experience in the heart of Old Quebec

I suggest you book early. This food tour is getting more and more popular so make sure to check availability
Is poutine included in this Gourmet Food Tour?
Poutine is probably the most iconic food of Quebec and I'm truly a dedicated fan. However, poutine is far from being fancy and it does't have the pretension to be. In other words, poutine doesn't really belongs to this Gourmet Food Tour. Sorry poutine fans. Poutine is a meal consisting of French fries, fresh cheese curds and topped with hot beef stock gravy. Above all, even if many restaurants have their own version of it, poutine will always be the ultimate comfort food.
The best poutines in Quebec City
On my walking tours, I always recommend my guests to try poutine at least once! Let me share with you my personal favorite top best poutine in Quebec City.
Please note that restaurants and tastings might change depending on the season and availability. You might not stop at the same places I did when I experienced the food tour. However, there are always 5 top rated gourmet stops, each composed of food and drink to satisfy your appetite
Tipping
At the end of the tour, it is customary to give your tour guide a tip, if you enjoyed the tour (and I'm sure you will). Guides in Québec City are professionals, we were all required to take a extensive course and to stay up dated with the industry news. We also need to pay for our license every year. Tipping is not mandatory, but appreciated. Usually, it is customary to give an extra 15% of the tour cost before taxes to the tour guide.
---
Voilà!
I hope you appreciated this blog post about the Evening Gourmet Food Tour. I honestly believe that this tour will be one of the highlight of you trip. What a wonderful way to learn more about a destination's culture with food! If you are looking for another tour to put on your travel planner (because 2 tours is better than 1!), I run private walking tours of Quebec City and I would love to show you around and give you recommendations for more restaurants, pubs, and good local places! Let me show you Quebec City!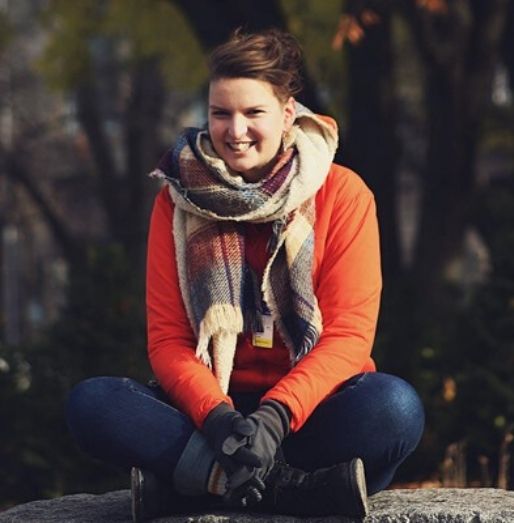 Marie-Pierre Lessard
Professional tour guide, blogger and entrepreneur.
I have a deep love of all things related to Quebec City. With my tour company, Nomad Tours Quebec, I run private walking tours of historic Quebec City. I write about activities, restaurants, sights and all things to do in my beautiful city.